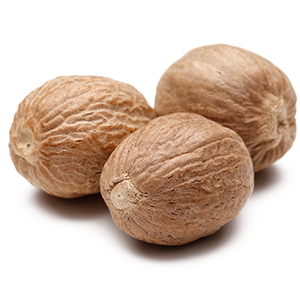 Nutmeg
Myristica fragrans
The nutmeg tree is a large evergreen, it produces two spices — mace and nutmeg. Nutmeg is the seed kernel inside the fruit and mace is the lacy covering (aril) on the kernel.
The nutmeg seed is encased in a mottled yellow, edible fruit, the approximate size and shape of a small peach. The fruit splits in half to reveal a net-like, bright red covering over the seed, the aril. Under the aril is a dark shiny nut-like pit, and inside that is the oval shaped seed which is the nutmeg. Nutmegs are usually sold without the mace or hard shell.
Nutmeg is available whole, cracked and ground.
Origin & harvest calendar