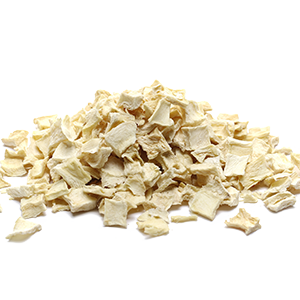 Parsnips
Pastinaca sativa
Parsnip is a root vegetable closely related to carrot and parsley. It is a biennial plant usually grown as an annual. Its long, tuberous root has cream-colored skin and flesh; and left in the ground to mature, it becomes sweeter in flavour after winter frosts. It has been used as a vegetable since antiquity and was cultivated by the Romans. It was used as a sweetener before the arrival in Europe of cane sugar.
The parsnip is native to Eurasia and is now mainly cultivated in Poland and Uzbekistan.
Dried parsnips are available as dices and granules.
Origin & harvest calendar