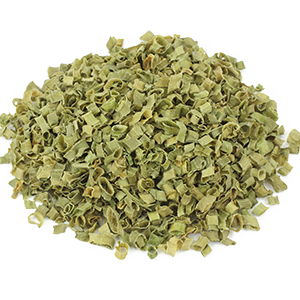 Chives
Allium schoenoprasum
Chives is a perennial plant and is widespread in nature across much of Europe, Asia, and North America. This herb is closely related to garlic, shallot, leek and Chinese onion. The stalks, which are hollow, are being chopped in tubular rings and are as such used as an herb.
Chives are commonly used as an ingredient for fish, potatoes, soups and other dishes. This ever green herb adds an onion-garlic like flavour to many savoury dishes. Nowadays China, Germany and France are the main producers of dried chives.
Dried chives are available as flakes and rings.
Origin & harvest calendar